PREDATOR HUNTING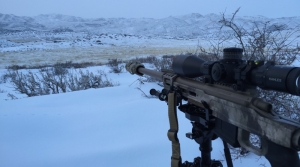 Wyoming has an abundance of Predators to help balance the ecosystem. We offer the outdoorsman several avenues to fulfill their predator hunting needs.  The hunting lodge can be added to this hunting package as an exciting mid-winter get away. Please contact us for details on rates and lodging information.
We also offer reservations for Mountain Lion Hunting with access to our excluded Hunting Lodge and fully guided hunts with experienced local dogs. Weather conditions and availability can be an issue in planning a successful hunt so please contact us for additional information.
Fishing is offered in our stocked ponds free of charge for all hunters & guests. It is stocked with rainbow and brown trout.
A fishing license must be purchased.
We are in Area 6 for Mountain Lion. Season dates can be cut short as this is limited quota area. Once the quota is filled the Wyoming Game and Fish closes the season and the unit.
Mountain Lion & Coyote Hunting dates are limited to January 1st – March 31st. (Mountain Lion Hunting dates can vary, please contact us for details.)
2019 Mountain Lion & Coyote Hunting Rates – There are no hidden charges or trophy fees. Please review our Policies.
RATES AND DATES
2019 CROSS C RANCH RATES AND DATES FOR PREDATORS

---
MOUNTAIN LION Area 6

*Mountain Lion Hunting dates can vary, please contact us for details. Coyote hunting rates include an unlimited trespass fee and lodging at the Hunting Lodge. These day rates are subject to additional rate for a cook and a guide if one is requested. If a guide is requested, transportation on the ranch will be included.
For additional information about Mountain Lion Hunting in Wyoming. Please follow the link below.
Click Here – Then Scroll Down for Mountain Lion Hunting Seasons & Brochure
Non-Resident Big Game Wyoming hunting licenses for Elk, Mule Deer, Antelope, and Whitetail Deer are on a permit drawing basis. To be eligible for the drawings, hunters must obtain applications for each species from:
Wyoming Game & Fish Department, License Section
5400 Bishop Blvd.
Cheyenne, WY 82002
Phone: 307-777-4600
Or, click here (Wyoming Game & Fish Apply or Buy) to purchase online. Fishing licenses can be purchased over the counter.