PRAIRIE DOG HUNTING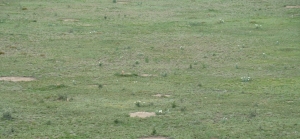 Prairie Dog Hunting Rates also include the exclusive use of our 1000 yd Steel Rifle Range, shooting tables & all transportation on the Ranch. Fishing in the stocked ponds on the Ranch is also included. A full time cook can also be included at additional cost. Combo Fly-Fishing + Prairie Dog Hunts are also available.
Fishing is offered in our stocked ponds free of charge for all hunters & guests. It is stocked with rainbow and brown trout.
A fishing license must be purchased in order to fish on the property.
Please note that our Prairie Dog Season starts on March 15th and ends on June 1st annually.
2019 Wyoming Hunting Rates – Includes lodging at the Hunting Lodge and guide. There are no hidden charges or trophy fees. As mentioned above, a full time cook can be provided at an additional cost.
RATES AND DATES
2019 CROSS C RANCH RATES AND DATES FOR PRAIRIE DOG