What to Expect on your Hunt…
DAY OF YOUR ARRIVAL
Please plan on arriving in the afternoon on the day before the start date for your hunt. This gives you time to shoot on our 1000 yd range and make sure everything is ready for your first day of hunting. We use reactive steel targets to make this a really enjoyable experience!
If you are flying, you will want to fly in to Denver, Colorado rent a car and drive to the hunter's cabin. It is about a 3 hour drive.
WEATHER
The weather in Wyoming is always subject to change. Unfortunately we have no control over it!  Please stay in contact with us prior to your hunt for the latest updates on weather conditions. We do not grant extra days or refunds due to lost hunting time or season closures caused by Acts of GOD. Preparation for these types of events can be made prior to your hunt date. Snow can be expected as early as September in our part of Wyoming, but usually October weather is mild and typical to the fall in the west.  A refund on your deposit can be given as long as the request is submitted more than 30 days before your hunt date.
HUNTER SAFETY REQUIREMENTS
In the state of Wyoming, no person born on or after January 1, 1966 may take any wildlife by the use of firearms, unless that person possesses and can exhibit a certificate of competency and safety in the use and handling of firearms. Wyoming grants reciprocity to other states, countries and provinces providing recognized hunter safety certificates. Exhibit of certificates is not required to apply for or obtain a license. Certificates must be carried into the field. The minimum age to hunt in Wyoming is 12. Please verify that you have the correct license type and hunt area before booking a hunt. If you have any doubts or questions about the type or hunt area, please give us a call.
TAXIDERMY – TROPHY CARE – MEAT PROCESSING
Part of the fully guided experience at the Cross C Ranch includes your guide field dressing your game after the harvest.  Taxidermy work and meat processing are available locally, or accommodations can be made to ship your game elsewhere. We are not involved in any meat processing although we do recommend certain meat processors in the area.  The Cross C Ranch provides a walk-in cooler for your use while you are in camp. If you do not have a vehicle to transport your animal to a meat processor or taxidermist, we will be glad to help. The cost of taxidermy and meat processing is not included in any of our fees. Again, we will be happy to recommend and help you locate a great taxidermist or meat processor.
Capes and trophies taken home by commercial airlines require special care. Please call your airline in advance to acquaint yourself with current airline requirements. In addition, be sure to familiarize yourself with state laws regarding transporting meat and trophies across state lines legally.
PHYSICAL CONDITIONING
The Rocky Mountains of Wyoming are nothing to be taken lightly. Mountains and inclined terrain can put a physical and mental strain on the body, especially when you are not acclimated to the increased altitudes of the American West. Since the ranch is all private and contiguous lands; ATVs, UTVs and 4WD vehicles are used primarily to cover the country, but some walking may be involved. All of our hunting is spot and stalk and of course fair chase. The hunter who has prepared him or herself physically has the edge on scoring a trophy, but please make your guide aware at any time that you feel too physically burdened. To make your evenings a time to relax and enjoy your vacation, rather than nursing sore muscles, we suggest you prepare yourself physically for your hunting experience. An exercise program initiated before your hunt will help you considerably while you are on your hunt. We will be hunting at 5,500′ to more than 8,000′ feet in elevation and the humidity and climate is generally arid or dry. Enough air can be hard to come by if you currently inhabit a lower elevation.
SHOOTING PRACTICE AND SKILLS
One of the single most important factors to a successful hunt is your ability to shoot well and handle your firearm safely. It is paramount that firearm safety is your top concern when going afield. As far as marksmanship, prone, sitting, kneeling and standing or resting off obstacles are typical positions when hunting big game. We use shooting sticks, tripods and natural obstacles to secure a stable shooting position. Please take all of these conditions into consideration when practicing prior to your hunt. We recommend a flat shooting variable scoped firearm that is capable of delivering at least 1000ft/lbs. of kinetic energy at your farthest comfortable hit range. Most of our clients choose to zero their firearms at 200 yds. We also encourage the use of  bi-pods or shooting sticks. We are a Long-Range friendly Outfitter with many on staff that have considerable experience ethically taking game at extended distances. Please feel free to use our 1000 yd range in confirming your zero and data on previous engagement as far a you are comfortable with.  For more information on the Long-Range equipment and options offered by the Cross "C" Ranch, please give us a call.
HUNTING GEAR AND EQUIPMENT PACKING LIST
Below are our recommendations for a Big Game Adventure in Wyoming. Your outerwear should be studied and considered before going afield. Your clothing and gear should be mobile, rugged, and reliable as it is weather resistant. Weather is unpredictable and can range from snow and 0 degrees Fahrenheit up to 70 degrees Fahrenheit, so please be prepared for anything. If you have concerns about gear or clothing please contact us!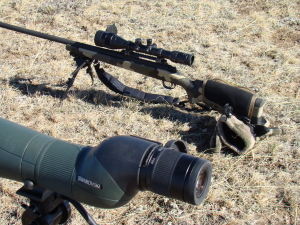 Blaze Orange cap or brimmed cap
Outdoor Insulated & Non-Insulated pants
Various wool layers & base layers are recommended
Underwear, socks (preferably wool)
Waterproof Hunting or Hiking boots with ankle support
Comfortable shoes for lounging
Light, medium & heavy weight gloves
Waterproof rain tops & bottoms
Cold & mild weather coats
Gun Hunters in Wyoming are required to wear at least ONE article of orange while in the field.
Licenses and hunter safety certificates
Rifle or Firearm
Additional Ammunition (approx. 50-60 rds.)
Lightweight & reliable day pack
Cartridge holder (prevents shells from clinking on stalk)
Flashlight
Binoculars (spotting scope not required but recommended)
Hunting knife
First Aid kit
Waterproof Matches or Lighter
Toothbrush, soap, shampoo
Anti-Inflammatory or any prescription medicines
Lip Balms & sunscreen
Camera, film, batteries or chargers & memory cards
Glasses or sunglasses (if prescription, bring extra pair)
HUNTING METHODS & FAIR CHASE
Our hunting is primarily spot and stalk and always fair chase. There are isolated situations where stand or still hunting will be the preferred method. A good pair of Binoculars is very important. We can spend many hours "glassing" and looking at game. Your guide will have a spotting scope to help you make the final decision on weather or not you like a particular animal.
GRATUITY
The guides and the cooks work very hard to ensure that you have a very pleasant and enjoyable hunt. Although not required, your gratuity to them is greatly appreciated in acknowledgment to their efforts.
ALL OF THE HUNTING AND PURSUIT OF GAME ON THE CROSS C RANCH IS "FAIR CHASE"