FLY FISHING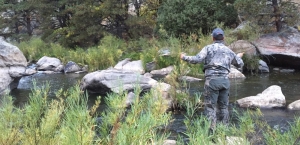 At the Cross C Ranch we offer both guided and trespass Fly Fishing options out of our centrally located Hunting Lodge on any of our stocked ponds or one of our 2 fully accessible rivers. Rainbow Trout, Brown Trout & Cut-bows are common throughout the waters within the Ranch. Our Hunting Lodge is available from April 1st – August 15th for rent and Fly Fishing packages can be negotiated by the day, week, or longer. Please feel free to contact us for your spring/summer getaway needs!
2018 Fishing Rates – Includes lodging at the Hunting Lodge. Meals, transportation, and guides are optional.
RATES AND DATES
2018 CROSS C RANCH RATES AND DATES FOR FLY FISHING WITH LODGING
2016 Fly Fishing / Day
2016 Fly Fishing / Week
Lodging for Non-Fishing Guests
Apr. 1st – Aug. 15th
Apr. 1st – Aug. 15th
Apr. 1st – Aug. 15th
$150.00
$800.00
$100.00 / Day
Cook $100 additional per day. Group rates are always available. Please contact us.
LICENSE
Nonresident Daily
Resident Daily
Nonresident Youth Annual
Nonresident Annual
Resident Annual
DATES
Apr. 1st – Aug. 15th
Apr. 1st – Aug. 15th
Apr. 1st – Aug. 15th
Apr. 1st – Aug. 15th
Apr. 1st – Aug. 15th
Fee
$14.00
$6.00
$15.00
$92.00
$24.00
Non-Resident Big Game hunting licenses for Elk, Mule Deer, Antelope, and Whitetail Deer are on a permit drawing basis. To be eligible for the drawings, hunters must obtain applications for each species from:
Wyoming Game & Fish Department, License Section
5400 Bishop Blvd.
Cheyenne, WY 82002
Phone: 307-777-4600
Or, click here (Wyoming Game and Fish Apply or Buy) to purchase online. Fishing licenses can be purchased over the counter.