ELK HUNTING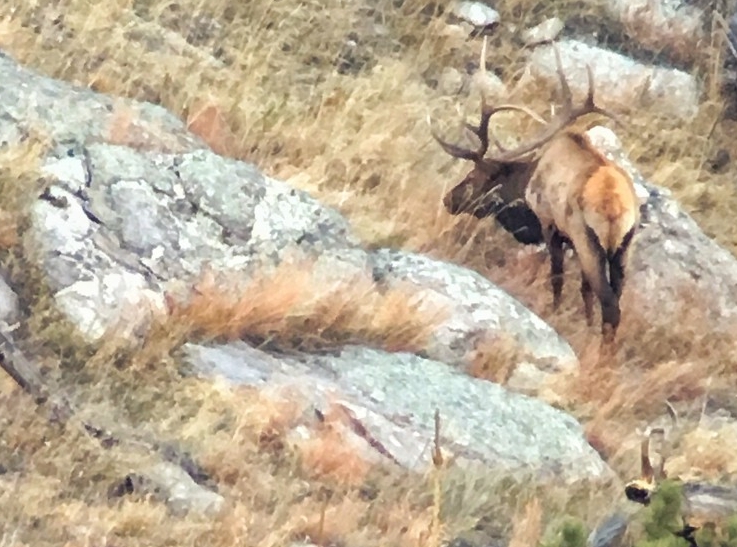 Our Wyoming Elk Hunting is absolutely some of the best in the United States. We are in the coveted area 7, widely known for plentiful amounts of record setting bulls. Our local and resident herd population has exploded in the past several years. We control the hunting on virtually 100% of the 17,000 acre ranch. A major part of the bounty that is the hunt includes the clean, lean, organic meat. You can expect to get 225 – 250+ pounds of boneless meat from a mature bull, and around 150 – 175+ pounds of meat for a cow.  Our guides will assist or complete the quartering or boning of the carcass with the utmost care and attention to the important value of the meat and any additional extension of the animal. Every attempt will be made to bring the animal away from the field in whole, but when the terrain or situation arrives we commonly use the "gutless" method to obtain every possible ounce of the ever so valuable meat and harvest. With our wildlife friendly management, the resident herd feels safe and is thriving. All of our Bull Elk hunts are 1 on 1. The hunting is primarily spot and stalk, greatly limiting the pressure on the elk.  A 300+ inch bull is very common on the ranch with several bulls approaching or exceeding 350 inches B&C. All hunting is 100% fair chase, and we mostly travel around the ranch on ATV's and 4WD vehicles. The hunting season for Bull Elk in Wyoming is very long lasting from October 15th to November 20th commonly. Hunters can book hunts in the early season when big bulls are screaming throughout the countryside or a late season hunt in the high country.
The hunting license application deadline is January 31. The license area for the Ranch is area 7. It is a limited quota draw area, and operates on a preference point system. A point only can be purchased for future use if you are unable to hunt in that particular year. Preference Points usually go on sale with the Wyoming G&F in the summer months. Area 7 is one of the more difficult areas in Wyoming to draw with applicants commonly needing close to max points in order to be successful in the draw. The drawing period is January 1st through January 31st. Results are typically available at the end of February. Every Bull Elk hunt includes full services by your guide and extended staff. We will take care of getting your bull off the mountain and into our private walk-in cooler.
Cow Elk hunting is also available at The Cross C Ranch after the Bull Elk season ends, typically on November 20th. Our cow elk hunting provides a bountiful harvest while hunting Elk in some of Wyoming's most beautiful country. Please call us for late season dates and possible combo opportunities with Deer & Antelope hunts. Cow Elk hunts are limited due to the strict management policies concerning our local herds. We do not have the difficulties brought on by Wolves or Grizzly Bears as many other areas do.
Fishing is offered in our stocked pond free of charge for all hunters. It is stocked with rainbow and brown trout. We also use and give full access to our walk-in cooler to store your meat prior to transportation or processing.
A fishing license must be purchased.
The Hunt Area for The Ranch is Area 7 and the season dates are from October 15th to November 20th.
2019 Application period is January 2nd – January 31st.
All Bull Elk Hunts are 5 Day, 6 Night Hunts.
2019 Wyoming Elk Hunting Rates – Includes lodging at the Hunting Lodge, all meals, transportation, and guide. There are no hidden charges or trophy fees. Please review our Policies.
RATES AND DATES
2019 CROSS C RANCH RATES AND DATES FOR ELK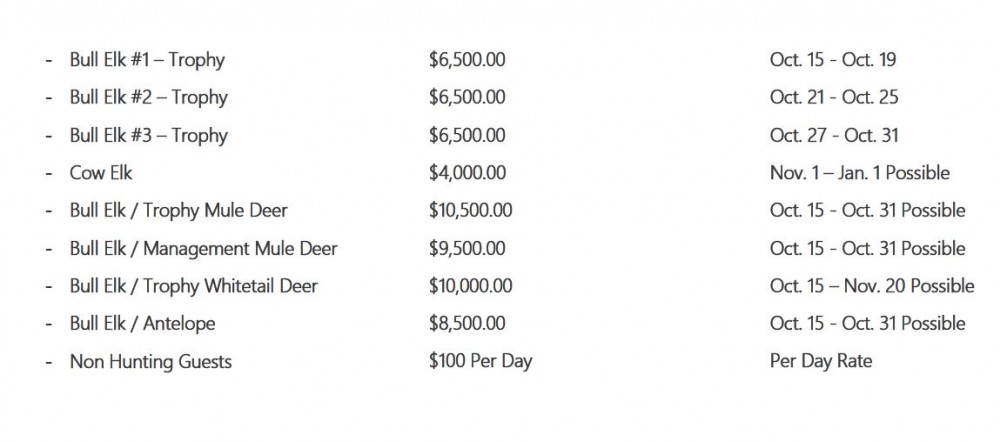 ---
Area 7 Elk

Non-Resident Big Game Wyoming hunting licenses for Elk, Mule Deer, Antelope, and Whitetail Deer are on a permit drawing basis. To be eligible for the drawings, hunters must obtain applications for each species from:
Wyoming Game & Fish Department, License Section
5400 Bishop Blvd.
Cheyenne, WY 82002
Phone: 307-777-4600
Or, click here (Wyoming Game & Fish Apply or Buy) to purchase online. Fishing licenses can be purchased over the counter.