2014 Hunting Season Review
Part II
---
The 2014 Hunting Season was legendary at the Cross C Ranch. We were blessed to harvest 7 Bull Elk, 13 Deer & 8 Antelope. On October 16th in particular we had the single most successful day of hunting that the ranch has ever seen. Following an extremely windy and blustery opening day where Mark slayed his Squaw Mountain monster (see below,) we were able to harvest 7 Deer and an additional Bull Elk all within hours of each other.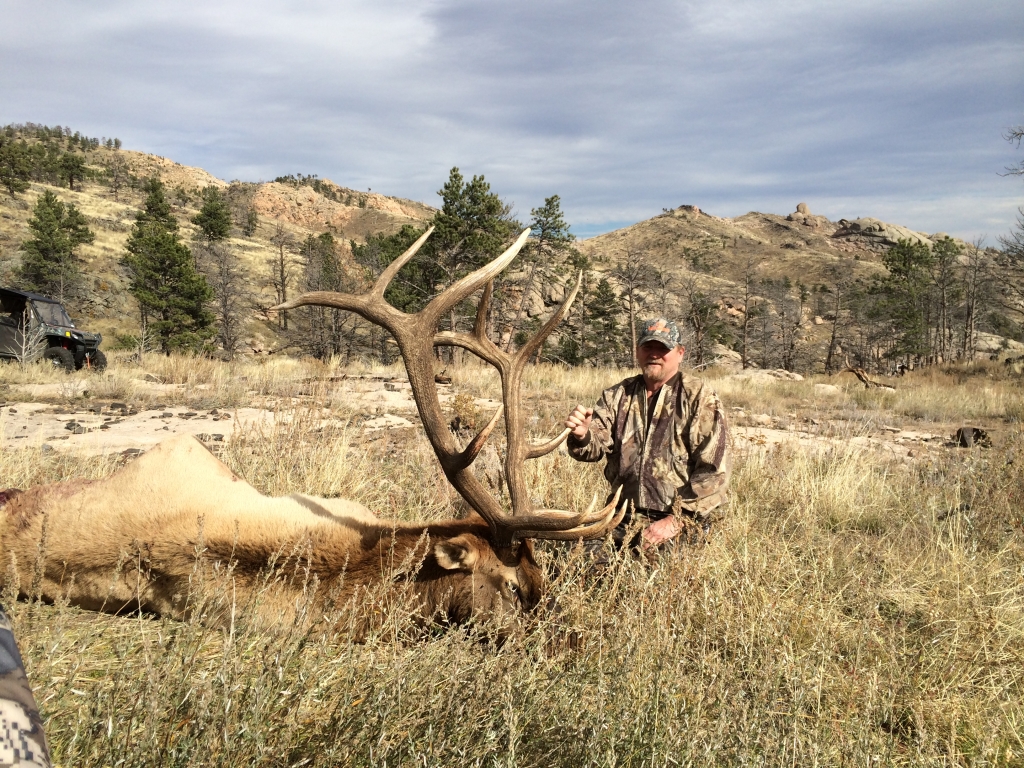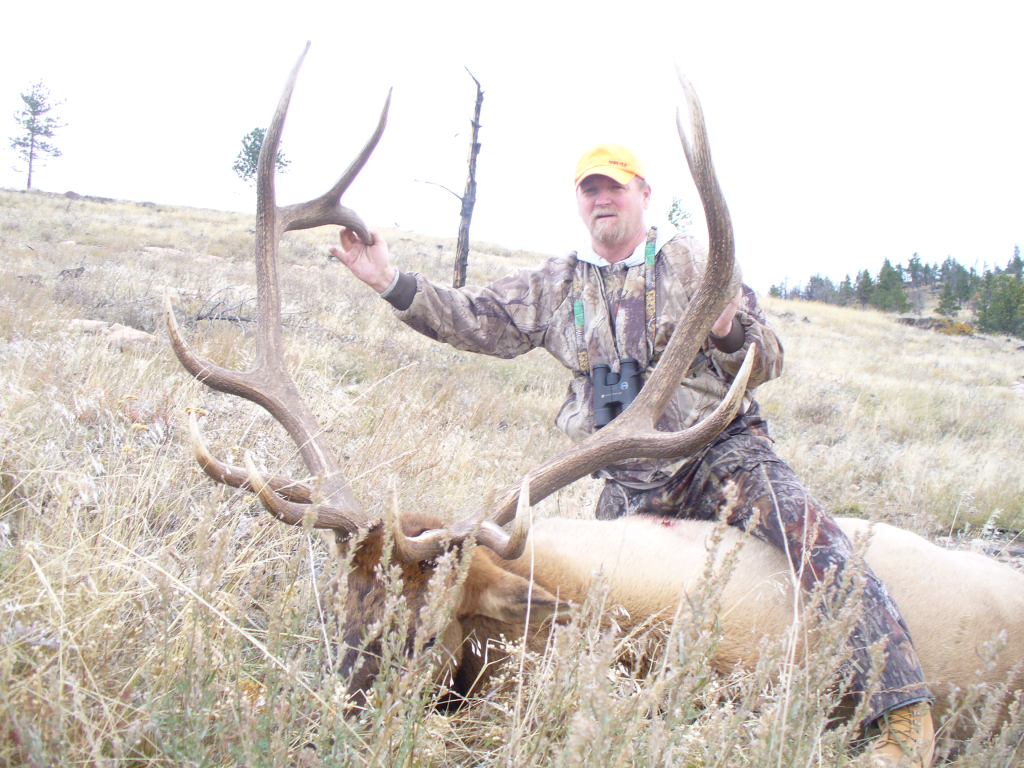 This was just an awesome sight to see as for some explained reason, the 16th of October was beautifully still and tranquil. This in turn must have inspired tremendous animal movement as we were able to harvest animals all over the ranch. Shots ranged from inside 50 yards for deer and the long shot of 675 yards for the Bull Elk!
---
A Father & Son combo from Oklahoma, Ryan & Bobby Stewart both connected on 2 Mule Deer within minutes! ( See pics below…)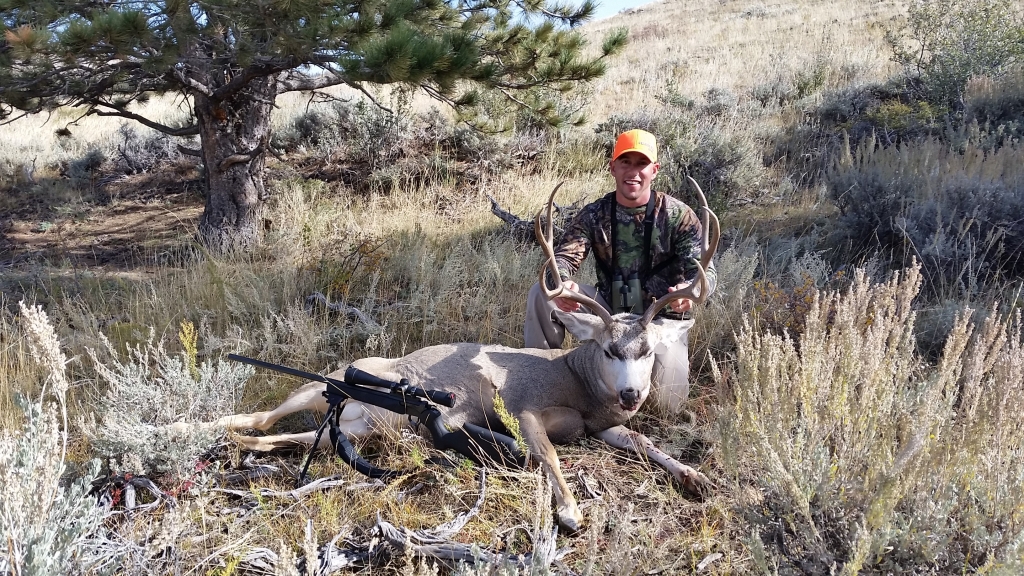 ( Ryan was able to get extremely close to his buck! Try to pick out the tines in the brush! )
Bobby, Ryan's father, made an excellent shot at less than 100 yds. This was Bobby's first Mule Deer Buck, and it was truly a special experience for a father and son to harvest 2 great bucks in the same area on the same day.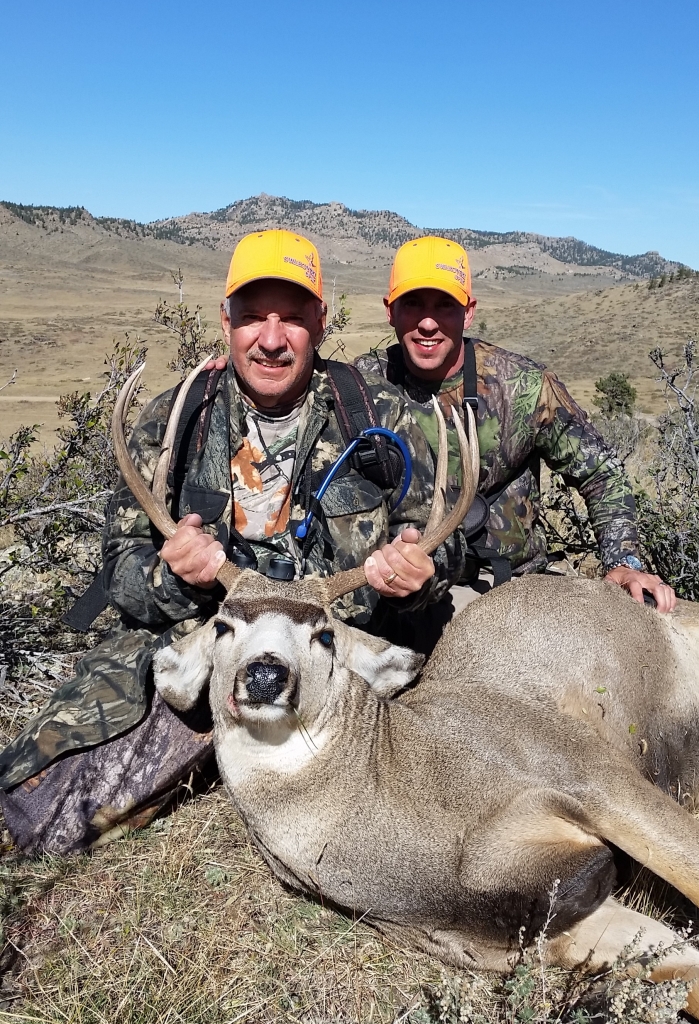 ---
Dustin, also from Tulsa, OK harvested this beautiful buck again on the same day that his fellow Oklahomans harvested their bucks. Dustin's buck was also very close to where Ryan & Bobby harvested their bucks. Dustin's Trophy Buck was one of the best scoring bucks that was taken on the Cross C Ranch for 2014.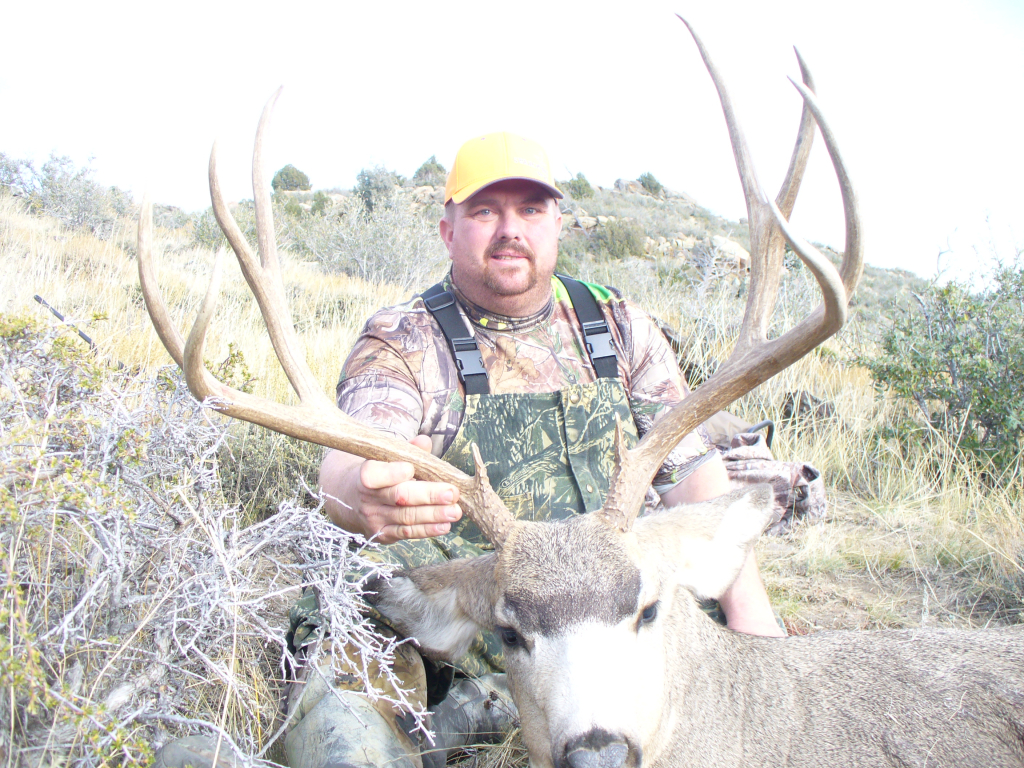 ---
3 of some of largest Mule Deer of the season were shot on the 16th and the longest shot on any Big Game Animal on the Cross C was made on the 16th as well with Deryck's 675yd one time shot on his amazing Bull Elk. Deryck showed amazing poise in a situation that would make most hunters buckle under pressure. We watched this monster bull nap and shift around for over six hours until the shot had to be made off a hard rock surface. Deryck was behind the gun for most of that time waiting for the opportunity to take this bull of a lifetime.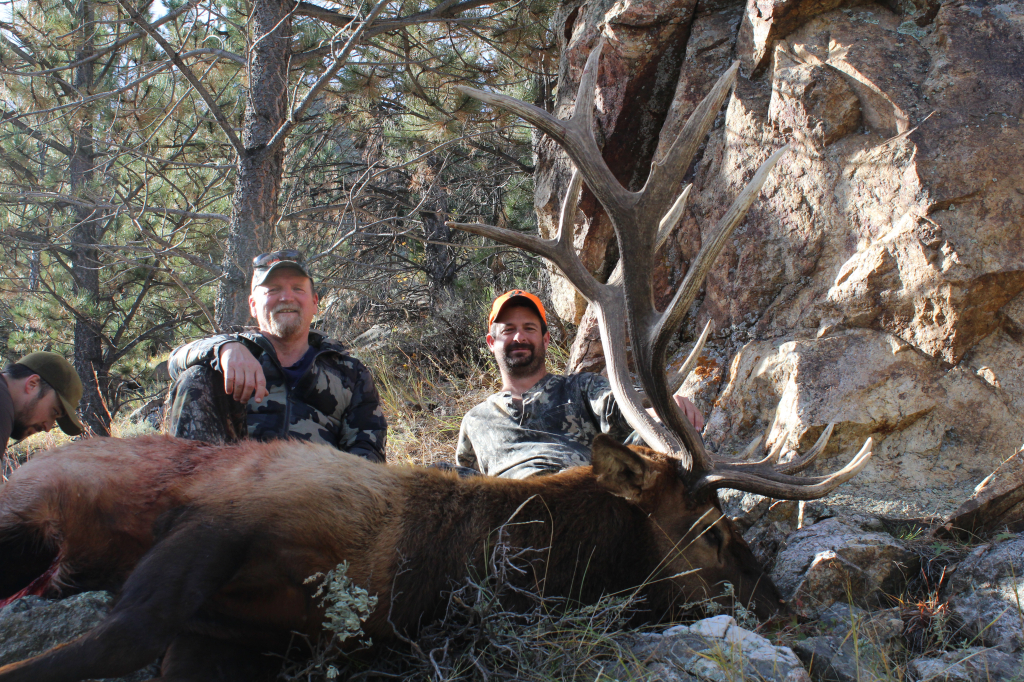 ---
Todd from Mississippi took this awesome old buck while a few of his compadres watched and videoed the stalk. This is also Todd's first Mule Deer, and it is a dandy at that! His body was tremendous, and he is a very typical mature buck with matching brow tines that uniquely point outward. Congrats Todd on a very special high country buck!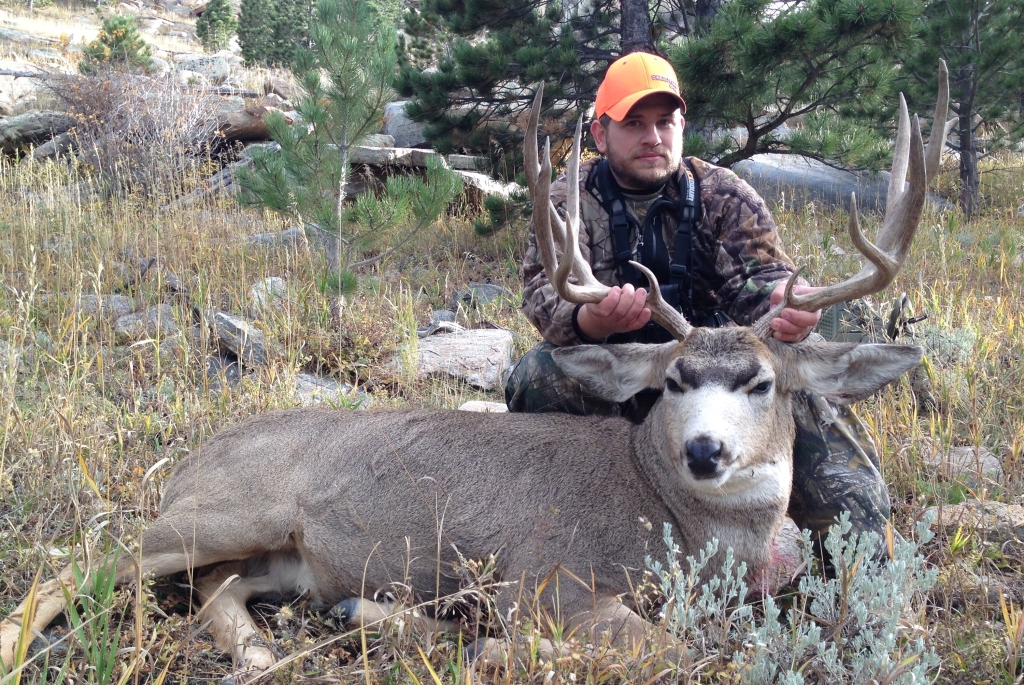 ---
Thomas is a hunting buddy of Todd (pictured above,) and the day after Todd took his buck of lifetime, Thomas connected on an amazing dark horned mature buck with his Swarovski scoped Steyr Scout!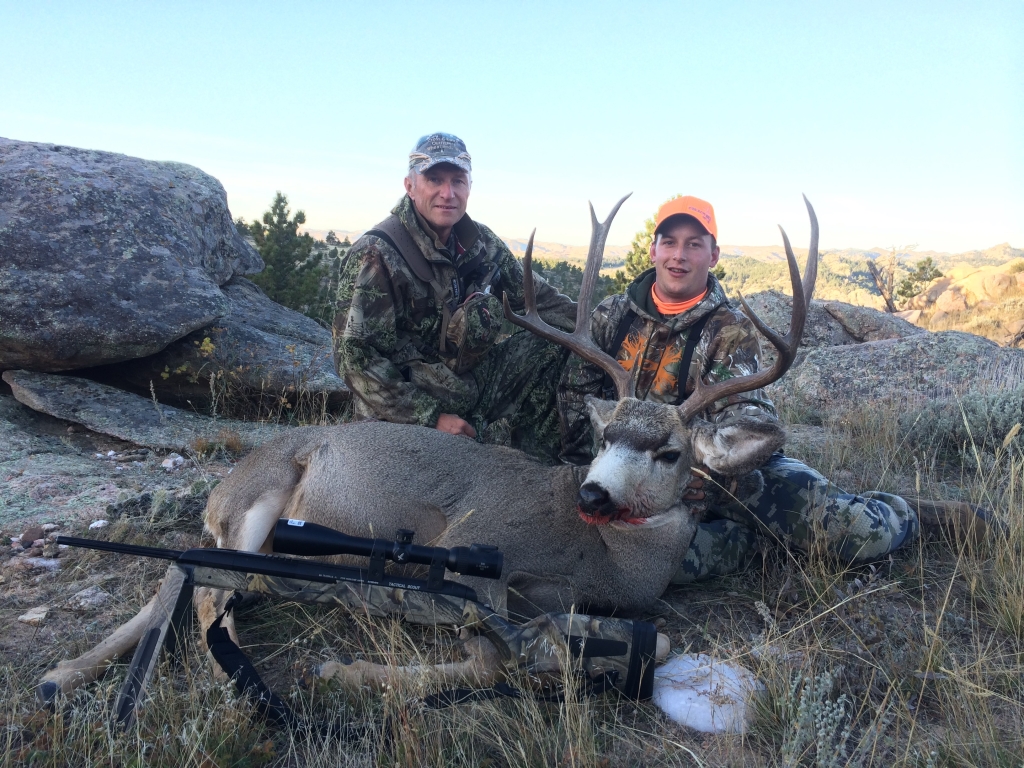 ---
Joey, who was also from Mississippi took a really nice long range buck with a suppressed custom 6.5 Creedmoor in an adrenaline filled morning hunt. These Mississippi boys proved that not only does good football come from the state of Mississippi in 2014, but also good shooting!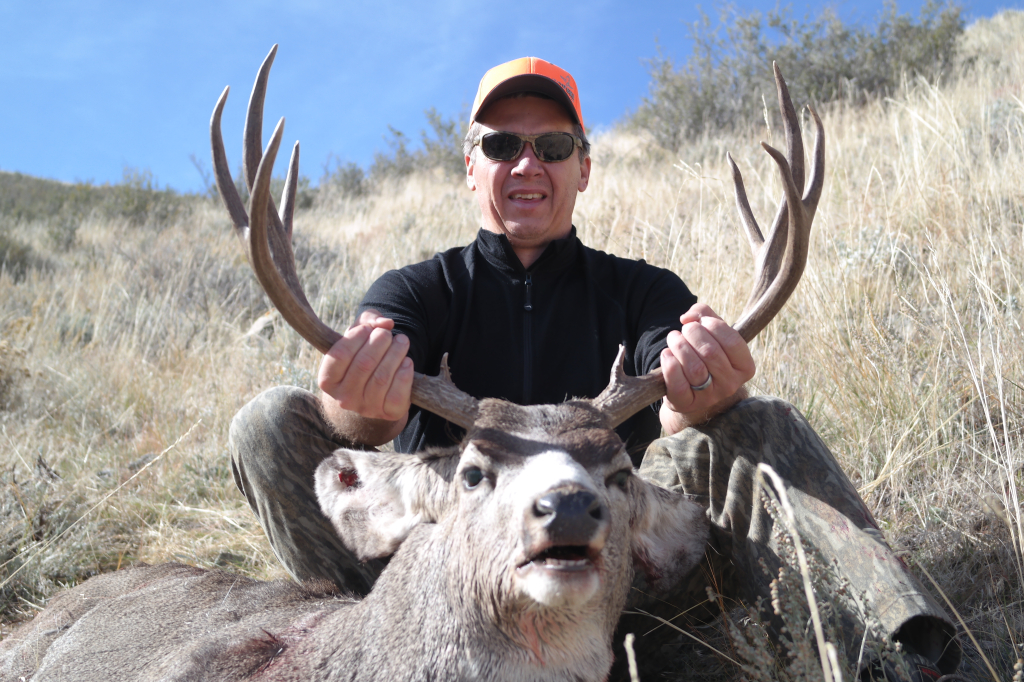 ---
Mike & Steve pulled a double similar to Ryan & Bobby on Oct. 16th bagging 2 bucks within minutes of each other in the same area. Mike shot his first Muley Buck and Steve shot a very special buck that we were chasing last year during both Bow & Rifle season. Steve made an excellent left handed (he normally shoots right handed) shot on his buck at just under 100 yds. with his suppressed 6.5 Creedmoor. Steve's buck was one of the more massive and mature bucks that was taken on the Cross C Ranch in 2014.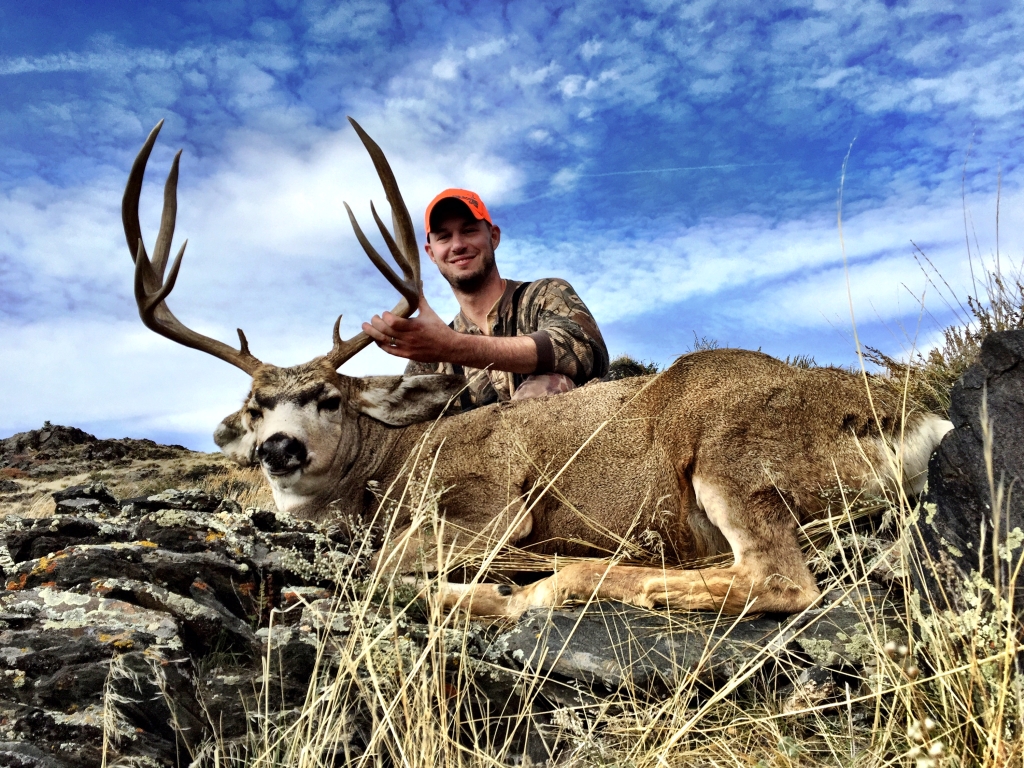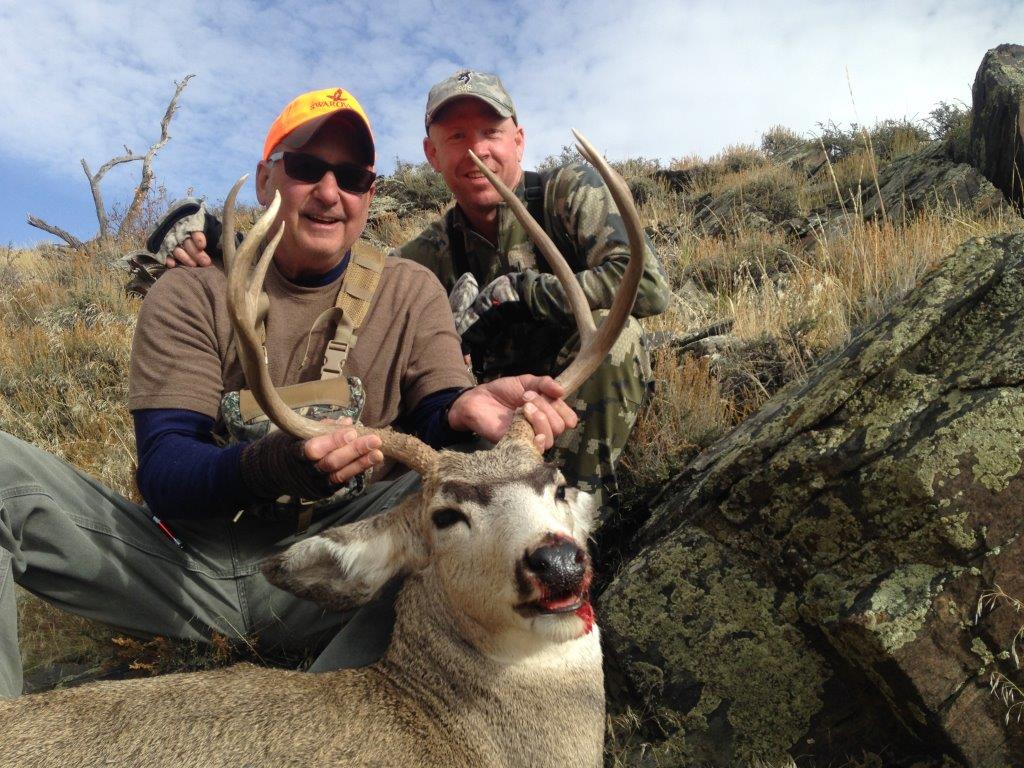 ---
Greg closed out the week with the last harvest. He chose to take this perfectly typical buck at 700 yds with an audience watching & coaching! The pressure was on and Greg didn't disappoint. All he needed was one shot on this great buck, and we were able to put a legendary first week in the books!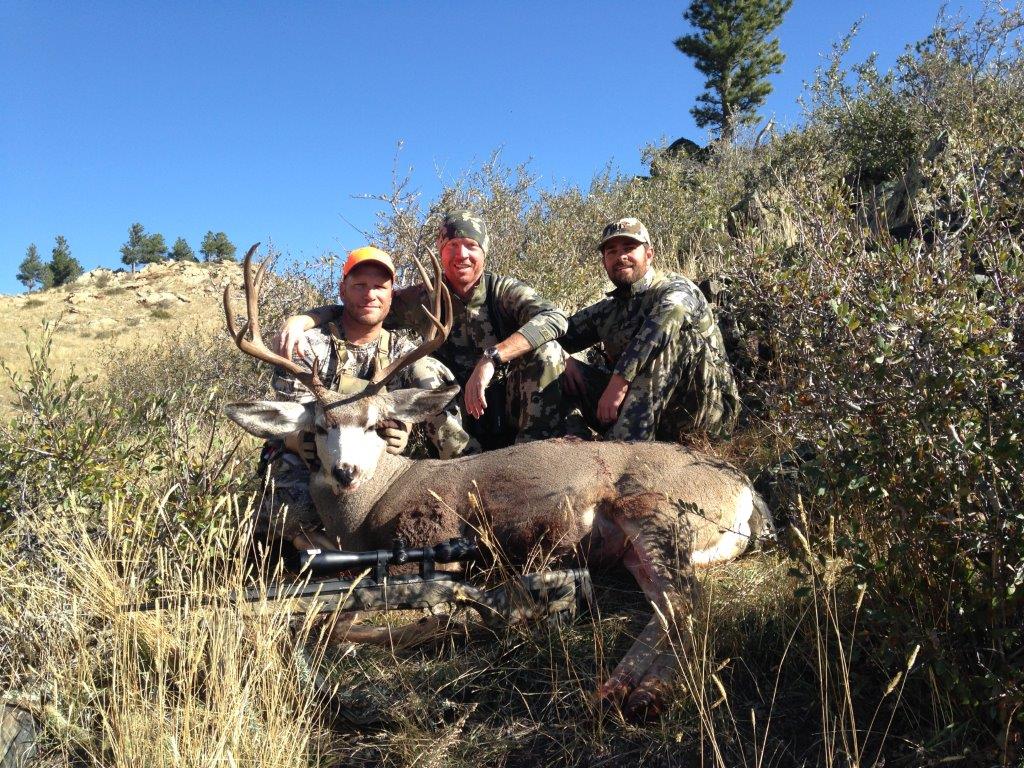 ---
The first week of Deer/Elk Rifle Season in Wyoming was tremendous at the Cross C Ranch. Our Success Rate was 100% and the weather was absolutely beautiful. We were seeing cool and crisp 30 degree mornings and highs into the 50s and 60s during the day. We accomplished all of the success that you've seen pictured above while only hunting less than half of the ranch.  All of the hunts were extremely unique and special to all those participating. We had several bucks and a bull taken at extended ranges, and we have to admit the technology and craftsmanship of some of the equipment available today makes hunting out west more fun than ever. All of the guides have unanimously agreed that this was the best total year of hunters that we have ever had. Everyone was extremely classy and safety minded, and they were very knowledgeable and familiar about their gear. Lastly, both groups of hunters were impressively savvy hunters, and it showed to everyone! Stay tuned for Part III !